Max finally got his high-powered, super-cool, extra unique tombstone it. If I didn't love him so much, I'd steal it and hang it in my own room.
I think it turned out wonderfully. I'm not in the business of offending Max's friends in BabyLand, but he's definitely rocking the greatest marking. I went out there Friday, and just laid on it, and cried, and cried, and my remember my baby and how much I miss him and hope he can see me.  I laid right where he's buried and there's a pretty nice view.
He gets lots of cool babies around him, and there's a nice sky and a tree:
I think Max would sign off on this deal.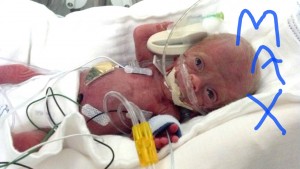 Or maybe his official signature can now be: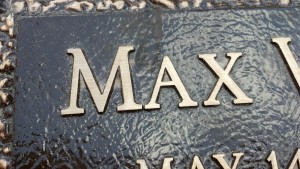 Pretty classy.
Sidenote: Apparently today is Pregnancy and Infancy Lost Remember Day.
Obviously, it's something we remember everyday and will forever, but a lot of other family similar consequences, with miscarriages, or stillbirths, or just infant death.
I'm forever grateful for my 16 days with Max. I'm still drawing favorite memories for, he's my hero.  And that's why I still want to keep his story up to date. helluva kid who touched a lot of people hearts. Support others know who have gone through something similar , and realize there's really not much worse a person could go through.
Just FYI and you live near the Houston Area, Max hangs out in Babyland at Memorial Oaks Funeral Home and cemetery. You can tell him because he has a Polish and American flag. He would like grave decorations like animals or dragons or giraffes, but stuff that can stand the weather.I felt so good after laying with him, maybe others can too.