This page is about Max The Baby and how great he was.
Here's the first thing I posted about him in the throes of my shock and grief, sums it up well:
http://maxthebaby.com/2012/05/31/hello-world/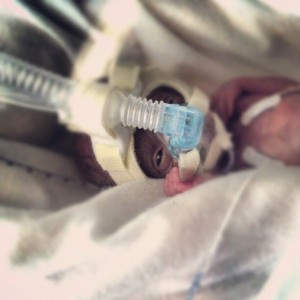 But more officially:
At around 27 weeks, we found out our little baby was suffering from IUGR (intra-uterine growth restriction) in the womb, and wasn't getting the nutrition he needed. He had started "brain-sparing", diverting all of his nutrients to keep his head growing, so his body wasn't as large as it should be. It was decided that he'd do better out of the womb than in it. He was born via C-section on Monday, May 14 at 27 weeks 4 days at 1 lb 1 oz. . He was breathing on his own from birth (no ventilator), and was doing great in the NICU, growing and feeding, with just the normal preemie problems. On Wednesday, May 30, his heart rate dropped suddenly, and despite the efforts of the nurses and doctors (bagging, CPR, adrenaline, ventilation), his heart rate never came back up and we lost our little baby. The doctors still don't know exactly why this happened, as he was really doing great. Despite the hardship of having our baby in the NICU, and the pain of losing him unexpectedly, we wouldn't trade our 16 days with Max for anything in the world. He was perfect and will always be with us.
More Max Facts: People that knew Max knew that he liked to kick and punch, especially when the nurses woke him up to aggravate him, change his diaper, admire his gorgeous eyes.  When I came and looked at him I'd be like all like, "Hey dude." And even if he didn't use his words, his eyes said "Hey dude." right back. Like it was meant to be. He was my best friend. I think he still is.